Our robot and shell technology enables the creation of waterproofed, well insulated subterranean space faster, less expensively and with less disruption than current basement construction solutions.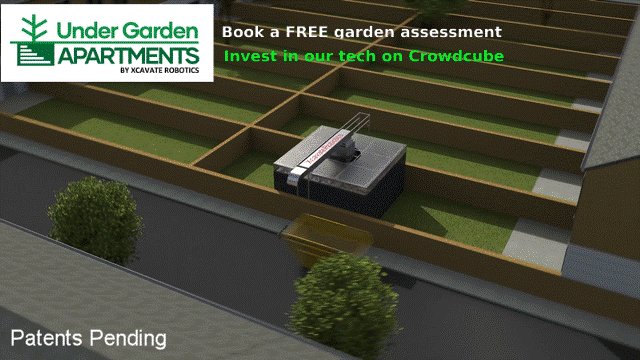 Usually, when building subterranean space, it is necessary to either over excavate leaving sloped walls to prevent excavated material from falling into the dug out void. To get around this Health and Safety requirement on compact urban sites, secant piled walls – made from huge numbers of costly, noisy and slow to install reinforced concrete or steel poles – need to be put in place. Our high tech shell sunk into the ground by highly innovative, purpose built soil removal robots working simultaneously is a much more efficient alternative.


Patents – territory exclusive licenses are available
In addition, through a process of iteration and testing, we have developed numerous other solutions which address issue and will allow us to deliver a vastly superior product to our competitors. Pending patents at PCT and other stages cover the innovations listed below and more.
To enable faster, less costly and disruptive subterranean space creation.
To improve light, views and ventilation with minimal intrusion into above ground garden space.
FOR HOUSE BUILDERS: Multiple innovations to maximise land yields – under garden apartments and access solutions for multi unit developments.
FOR CONSTRUCTION COMPANIES: (1) Small and deep space creation – multiple floors. Enabling further excavation and expansion at a later date. (2) Groundworks – access way / manhole installation solutions.
FOR GOVERNMENT: Bicycle, ebike and scooter storage and charging station elements and configurations.
FOR ECOMMERCE & DELIVERY COMPANIES: Last mile delivery warehouse and collection points – elements and configurations.
To enquire about partnering with us or licencing of our technology, please click HERE to go to our contact form and submit your details.